Lapidemsibilus (ラピデムシビルス, Rapidemushibirusu) is a Carillon/Dug Weapon that was co-owned by the Orlandri Merchants Guild and the Guardian Wings Military. Its current wielder was Willem Kmetsch until he broke it to kill Chanteur: The First Beast Who Laments For The Moon in order to free Almaria Duffner from her eternal dream.
Background
Edit
Re-Discovery
Edit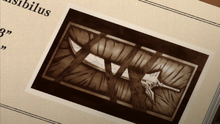 In 433, Lapidemsibilus was re-discovered by a surface survey team working for the Guardian Wings Military deep in a ruin beneath Gomag Orphanage. While they were flying it back to the Règles Aile, their airship "The Saxifraga" was downed in a beast attack before they could reach a higher altitude. The airship survived, but it was badly damaged and so they had to call for help from the Guardian Wings Military. 3 months later, help arrives in the form of the military craft "Plantagenista," with some of its crew mates being Willem Kmetsch, Chtholly Nota Seniorious and Nephren Ruq Insania on it. The sword was then loaded into the hull by some soldiers and was eventually dug out by Willem Kmetsch, who wanted to use it to save Chtholly from her mental disintegration.
Physical Composition
Edit
Lapidemsibilus is a long curved steel sword that is comprised of 36 random multiple shining talismans. When combined, the talismans glow a white color when activated with Willem's Venenum and can unleash devastating white blasts.
Special Abilities
Edit
Lapidemsibilus's special ability is that it can preserve the wielder's mental state at its best condition. While this ability is useful in drawn-out fights, it also means the wielder's mind is also being kept in top condition as they are being killed, forcing them through an agonizing death.
Known Wielders of Lapidemsibilus
Edit
Unnamed Brave
Navrutri Teigozak - A Quasi-Brave who was a member of Lillia Asplay's team.
Willem Kmetsch - A 2nd Grade Technical Officer who works for the Guardian Wings Military. He is the last surviving member of the Emnetwiht race.
Known Victims of Lapidemsibilus
Edit
References
Edit